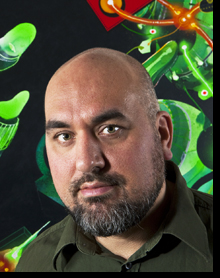 Remko Koopman is an artist from Leiden, Holland. Besides his work as a professional graphic designer Koopman is an autonomous artist with roots in the Dutch graffiti scene of the 80's and 90's. His interests lie in industrial architecture, technology, machinery, nano robotics, medical science and 'grounded sci-fi' which have lead to a recognizable personal style. His artwork is characterized by striking futuristic images often including graphic shapes and a modern reinterpretation of clair-obscur. Koopman plays with the viewers perception of hight and size by using surreal elements such as incorrect angles and perspective distortion. His works show a complex mash-up between organic structures and mechanical compounds. This is Koopman's view of the future. A new industrial revolution of manmade nano-biomechanics composed of living materials infused with non-organic elements.

The contemporary inferno of Remko Koopman 
Text by Allart Lakke


Remko Koopman (Leiden, The Netherlands, 1974). Lives and works in Leiden. He completed his graphic design studies at the Royal Academy of Art, The Hague, in 1998.
Once upon a time, in 1988, Koopman started out as a 'graffitiwriter' in Leiden, working under the name of SCAGE, which he describes as 'the most beautiful letters in the alphabet'. He is, among other groups, a member of the DSK crew (Dope Style Kings), originally founded by ZEDZ in 1988. In 1995, Remko set out on a pilgrimage to the South Bronx and Brooklyn. From 1993 to 1998, he studied typography and graphic design in The Hague, after which he joined the graphic design agency Cascade in Amsterdam from 1999 to 2008. In the meantime, SCAGE had not been forgotten and in 2007, his works were included in the American cult documentary 'Bomb It – Street Art Is Revolution'. Realising the importance of meticulous documentation, Koopman independently produced the reference work De Leidse School ('The Leiden School') about the graffiti scene in Leiden. The book was followed by other exceptional publications. He founded his own design studio in 2009, the start of a period of expansion of techniques. During this period, his field of work shifted slightly. But the autonomous works, paintings and drawings continue to testify of his interest (which once began with disassembling equipment, machines and electronics, and developed into a fascination) in biomechanics and nanotechnology. His breeding ground of inspiration is to blend visual elements in industrial architecture, fragments of machines and pumps, the glow of the steel industry and the nuclear power plant, but also bunker constructions and the chemical laboratory. The bright colours in his works scream out in fluorescent yellows, oranges and reds. The contemporary inferno enlarged to the size of the nano.
In 2014 he created a large mural titled 'We All Float Down Here' in the VIP room of the music venue Gebr. De Nobel in Leiden. This work combines the craftsmanship of graffiti with new techniques to create a substantially lucid visual language, which Remko Koopman himself describes as 'retrofuturistic industrial'. A good balance between the old and the new and an example of his development in style.
Allart Lakke, 2015